Skip to Main Content
It looks like you're using Internet Explorer 11 or older. This website works best with modern browsers such as the latest versions of Chrome, Firefox, Safari, and Edge. If you continue with this browser, you may see unexpected results.
Clickbait everywhere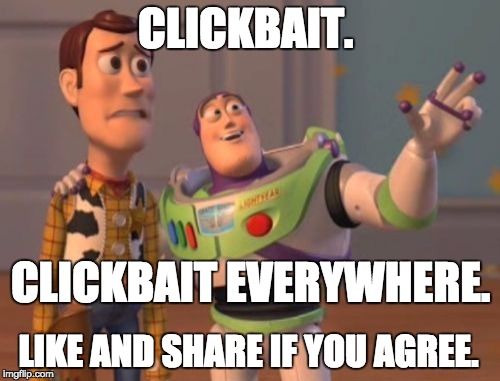 Image credit: WilliamCFrancis (2015)
Clickbait
Clickbait is probably the most easily recognisable fake news. Outrageous headlines get readers to click through, only to find that the the story doesn't live up to the headline's promise. Here's one recent example from food magazine, Delicious, about McDonald's no longer serving Big Macs.
The headline clearly indicates that McDonalds is about to stop selling its flagship product, the Big Mac. However, when we actually read the article, we can see that it's just one McDonald's outlet in France that is doing this as an experiment with the cafe concept, which they've done in other cities around the world:
"In a controversial move by the fast food giant that's made a name from its famous burger and fries, a new McDonald's outlet in Paris has wiped its menus clean, replacing burgers for bagels and chips for artisan coffee."
The headline is clearly over the top and misleading, and that's what makes it clickbait.
We acknowledge the Australian Aboriginal and Torres Strait Islander peoples as the first inhabitants of the nation and acknowledge Traditional Owners of the lands where our staff and students, live, learn and work.

Except where otherwise noted, this work is licensed under a Creative Commons Attribution-ShareAlike (CC BY-SA) 4.0 International License. Content from this Guide should be attributed to James Cook University Library. This does not apply to images, third party material (seek permission from the original owner) or any logos or insignia belonging to JCU or other bodies, which remain All Rights Reserved.
.